Latest News
Louis is flying high!
Created: Thursday, 28 July 2016 18:49
Louis Williamson auditioned against thousands of applicants around the WORLD to gain a place at the White Lodge Ballet school Summer intensive training.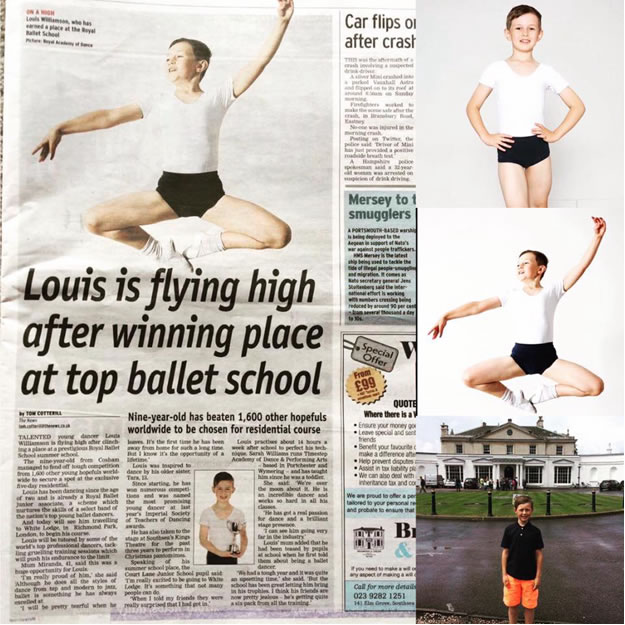 ISTD Senior Ballet Awards - London
Created: Tuesday, 08 March 2016 18:40
Massive Well done to all the Timestep Pupils that competed in the Senior Ballet Awards, with FIVE Pupils making through to the finals as well!
Portsmouth Festival Results 2016
| | |
| --- | --- |
| Cups won | |
| Most promising dancer | Tilly-May Padley |
| Dancer's Cup | Daisy Smedley |
| Best All-Rounder | Tara Holland |
| Highest mark in National under 14yrs | Zoe Hartley |
| Boys Aggregate any age | Marley Young |
| 9yrs and under song cup | Hannah Keogh |
| Baby National Cup | Willow Perring |
| Baby Ballet Cup | Willow Perring |
| 13yrs stage Aggregate | Zoe Elliott |
| 13yrs Song Cup | Zoe Elliott |
| Song Duet Cup | Louis Williamson & Bethany Pitts |
| Modern Trio Cup | Marissa Hancock, Zoe Elliott & Charlotte Rook |
| Baby Song Cup | Lucas Barber-Grant |
| Highest Mark in Character | Tara Holland & Stephanie Lipsham |
| 12yrs stage aggregate | Tara Holland |
| Highest mark in Modern | Tara Holland |
| Song trio cup | Demi Scott, Tenisha Lawrance, Zoe Hartley |
| Boys stage aggregate | Louis Williamson |
| Classical aggregate 15yrs and over | Kaya Davey-Smith |
| Highest mark in Modern | Kaya Davey-Smith |
| | |
| --- | --- |
| Baby classical | 5yrs and under |
| 1st | Willow Perring |
| 3rd | Phoebe Yates |
| | |
| --- | --- |
| Baby modern | 5yrs and under |
| 2nd | Willow Perring |
| | |
| --- | --- |
| Baby National | Under 5yrs |
| 1st | Daisy Hollins |
| 2nd | Hollie Tipler |
| 3rd | Willow Tolliday |
| | |
| --- | --- |
| Baby National | 5yrs |
| 1st | Willow Perring |
| 2nd | Thomas Duncan |
| | |
| --- | --- |
| Baby Song and dance | Under 5yrs |
| 1st | Lucas Barber-Grant |
Baby song and dance

5yrs

2nd

Willow Perring
Phoebe Yates
Baby Tap

Under 5yrs

3rd

Remi Hopkinson
Lucas Barber-Grant
| | |
| --- | --- |
| Baby tap | 5yrs |
| 2nd | Willow Perring |
| 3rd | Phoebe Yates |
| | |
| --- | --- |
| Ballet solo | 6yrs |
| 2nd | India Young |
| 4th call-out | Remi Bedford |
| | |
| --- | --- |
| Character solo | 6yrs |
| 3rd | India Young |
National solo

6yrs

2nd

Remi Bedford
India young
| | |
| --- | --- |
| Tap solo | 6yrs |
| 3rd | India Young |
| 4th call-out | Remi Bedford |
Song and dance solo

6yrs

3rd

India Young
Remi Bedford
| | |
| --- | --- |
| Ballet solo | 7yrs |
| 1st | Liliarna Liskutin |
| 2nd | Rosie Hollins |
| | |
| --- | --- |
| Character solo | 7yrs |
| 1st | Marley Young |
| 2nd | Olivia Wiltshire |
| | |
| --- | --- |
| National solo | 7yrs |
| 1st | Liliarna Liskutin |
| 2nd | Marley Young |
| 3rd | Olivia Wiltshire |
| 4th call-out | Raige Bedford |
Modern solo

7yrs

3rd

Marley Young
Olivia Wiltshire
Liliarna Liskutin
| | |
| --- | --- |
| Tap solo | 7yrs |
| 1st | Olivia Wiltshire |
| 4th call-out | Marley Young |
Song and dance solo

7yrs

2nd

Marley Young

4th call out

Liliarna Liskutin
Olivia Wiltshire
| | |
| --- | --- |
| Ballet solo | 8yrs |
| 2nd | Lottie Whittaker |
| | |
| --- | --- |
| Character solo | 8yrs |
| 1st | Hannah Keogh |
| 2nd | Lottie Whittaker |
| 3rd | Elsie Meades |
| | |
| --- | --- |
| National solo | 8yrs |
| 1st | Hannah Keogh |
| 2nd | Lottie Whittaker |
Greek solo

7 & 8yrs

3rd

Liliarna Liskutin

4th call-out

Lottie Whittaker
Hannah Keogh
Olivia Wiltshire
Marley Young
Raige Bedford
| | |
| --- | --- |
| Modern solo | 8yrs |
| 1st | Lottie Whittaker |
| 3rd | Hannah Keogh |
| | |
| --- | --- |
| Song and dance solo | 8yrs |
| 1st | Hannah Keogh |
| | |
| --- | --- |
| Ballet solo | 9yrs |
| 2nd | Louis Williamson |
| 3rd | Talliah Lawrance |
| 4th call out | Seren Perring |
| | |
| --- | --- |
| Character solo | 9yrs |
| 3rd | Jessica Stringer |
| | |
| --- | --- |
| National solo | 9yrs |
| 2nd | Louis Williamson |
Tap solo

9 yrs

3rd

Grace Harris

4th call-out

Talliah Lawrance
Scarlett Young
Modern solo

9yrs

2nd

Seren Perring

4th call-out

Talliah Lawrance
Envi Bentord
Song and Dance solo

9yrs

3rd

Grace Harris
Scarlett Young
Talliah Lawrance

4th call-out

Louis Williamson
Character solo

10yrs

1st

Bethany Pitts

3rd

Lois Preston
Dior Bedford
| | |
| --- | --- |
| National solo | 10yrs |
| 1st | Dior Bedford |
| 2nd | Bethany Pitts |
Greek solo

9 & 10yrs

3rd

Talliah Lawrance

4th call out

Lois Preston
Bethany Pitts
| | |
| --- | --- |
| Tap solo | 10yrs |
| 3rd | Bethany Pitts |
Modern solo

10yrs

3rd

Bethany Pitts

4th call-out

Lois Preston
Dior Bedford
| | |
| --- | --- |
| Song and dance solo | 10yrs |
| 2nd | Lois Preston |
| | |
| --- | --- |
| Ballet solo | 11yrs |
| 2nd | Zoe Hartley |
| 3rd | Tilly-May Padley |
| | |
| --- | --- |
| Character solo | 11yrs |
| 2nd | Zoe Hartley |
| | |
| --- | --- |
| National solo | 11yrs |
| 1st | Zoe Hartley |
| 3rd | Tilly-May Padley |
| 4th call-out | Daisy Smedley |
Greek solo

11yrs

4th call-out

Daisy Smedley
Zoe Hartley
Tilly-May Padley
| | |
| --- | --- |
| Tap solo | 11yrs |
| 2nd | Tilly-May Padley |
| 3rd | Aysha Lane |
| 4th call out | Zoe Hartley |
| | |
| --- | --- |
| Modern solo | 11yrs |
| 1st | Tilly-May Padley |
| 2nd | Zoe Hartley |
Song and dance solo

11yrs

2nd

Tilly-May Padley

4th call-out

Daisy Smedley
Zoe Hartley
| | |
| --- | --- |
| Ballet solo | 12yrs |
| 1st | Paige Yates |
| 2nd | Tara Holland |
| 4th call-out | Naomi Gates |
Character solo

12yrs

1st

Tara Hollamd

4th call-out

Tenisha Lawrance
Paige Yates
Demi Scott
Alisha Ayres
| | |
| --- | --- |
| National solo | 12yrs |
| 2nd | Madre Paice |
| | |
| --- | --- |
| Greek solo | 12yrs |
| 4th call-out | Tara Holland |
Tap solo

12yrs

2nd

Tara Holland

4th call-out

Demi Scott
Alisha Ayres
Elishka Liskutin
Modern solo

12yrs

1st

Tara Holland

4th call-out

Paige Yates
Madre Paice
Demi Scott
Song and dance solo

12yrs

1st

Demi Scott

3rd

Tara Holland

4th call-out

Emmie Wallman
Tenisha Lawrance
Elishka Liskutin
Lyrical solo

11 & 12yrs

2nd

Tara Holland

3rd

Tenisha Lawrance

4th call-out

Paige Yates
Emmie Wallman
Ellie-Rose Kimpton
| | |
| --- | --- |
| Ballet solo | 13yrs |
| 3rd | Anya Rook |
| | |
| --- | --- |
| National solo | 13yrs |
| 2nd | Zoe Elliott |
| 3rd | Rachael Stringer |
| | |
| --- | --- |
| Tap solo | 13yrs |
| 3rd | Anya Rook |
| | |
| --- | --- |
| Modern solo | 13yrs |
| 2nd | Zoe Elliott |
| | |
| --- | --- |
| Song and dance solo | 13yrs |
| 1st | Zoe Elliott |
| 2nd | Georgia Harris |
| | |
| --- | --- |
| Ballet solo | 14yrs |
| 2nd | Charlotte Rook |
| 3rd | Marissa Hancock |
Character solo

14yrs

1st

Stephanie Lipsham

4th call-out

Marissa Hancock
Ellis McGuigan
| | |
| --- | --- |
| National solo | 14yrs |
| 1st | Marissa Hancock |
| 3rd | Ellis McGuigan |
| | |
| --- | --- |
| Tap solo | 14yrs |
| 2nd | Marissa Hancock |
| 3rd | Eleanor Smitn |
| 4th call-out | Siobhan Carroll |
Modern solo

14yrs

2nd

Eleanor Smith

3rd

Faith Whittaker
Marissa Hancock

4th call-out

Charlotte Rook
Stephanie Lipsham
Song and dance solo

14yrs

1st

Stephanie Lipsham

2nd

Marissa Hancock
Faith Whittaker

3rd

Eleanor Smith

4th

Ellis McGuigan
Lyrical solo

13 & 14yrs

2nd

Marissa Hancock

3rd

Zoe Elliott
Charlotte Rook

4th call-out

Anya Rook
Hannah Sudbury
Faith Whittaker
Ellis McGuigan
Eleanor Smith
| | |
| --- | --- |
| Ballet solo | 15yrs |
| 2nd | Kaya Davey-Smith |
| | |
| --- | --- |
| National solo | 15yrs |
| 4th call out | Kaya Davey-Smith |
| | |
| --- | --- |
| Tap solo | 15yrs |
| 2nd | Kaya Davey-Smith |
| | |
| --- | --- |
| Modern solo | 15yrs |
| 1st | Kaya Davey-Smith |
| | |
| --- | --- |
| Song and dance solo | 15yrs |
| 3rd | Kaya Davey-Smith |
Lyrical solo

15yrs

4th call-out

Alana Squibb
Kaya Davey-Smith
Chloe Sudbury
| | |
| --- | --- |
| Contemporary solo | 15yrs |
| 1st | Kaya Davey-Smith |
| 2nd | Tara Holland |
| 3rd | Marissa Hancock |
Classical duet

9yrs and under

1st

Hannah Keogh & Lottie Whittaker

2nd

Olivia Wiltshire & Liliarna Liskutin

3rd

Lottie Whittaker & Hannah Keogh
Liliarna Liskutin & Olivia Wiltshire
| | |
| --- | --- |
| Tap duet | 9yrs and under |
| 2nd | Scarlett Young & Grace Harris |
| | |
| --- | --- |
| Modern duet | 9yrs and under |
| 1st | Louis Williamson & Talliah Lawrance |
| | |
| --- | --- |
| Song and dance duet | 9yrs and under |
| 2nd | Seren Perring & Scarlett Young |
| 3rd | Liliarna Liskutin & Raige Bedford |
Classical duet

13yrs and under

2nd

Naomi Gates & Madre Paice

4th call-out

Daisy Smedley & Naomi Gates
Zoe Hartley & Tata Holland
Dior Bedford & Seren Perring
Emmie Wallman & Alisha Ayres
| | |
| --- | --- |
| Tap duet | 13yrs and under |
| 3rd | Tenisha Lawrance & Alisha Ayres |
| | |
| --- | --- |
| Song and dance duet | 13yrs and under |
| 1st | Louis Williamson & Bethany Pitts |
| | |
| --- | --- |
| Tap duet | 15yrs and under |
| 2nd | Faith Whittaker &'Eleanor Smith |
Modern duet

15yrs and under

1st

Tara Holland & Anya Rook

4th call out

Zoe Elliott & Marissa Hancock
Eleanor Smith & Stephanie Lipsham
| | |
| --- | --- |
| Song and dance duet | 15yrs and under |
| 1st | Marissa Hancock & Zoe Elliott |
| 2nd | Eleanor Smith & Stephanie Lipsham |
| | |
| --- | --- |
| Tap duet | 15yrs and over |
| 2nd | Natasha Hartley & Tara Holland |
| | |
| --- | --- |
| Modern duet | 15yrs and over |
| 3rd | Kaya Davey-Smith & Eleanor Smith |
| | |
| --- | --- |
| Song and dance duet | 15yrs and over |
| 2nd | Kaya Davey-Smith & Faith Whittaker |
| | |
| --- | --- |
| Classical trio | 9yrs and under |
| 1st | Hannah Keogh, Marley Young & Lottie Whittaker |
| 2nd | Seren Perring, Scarlett Young & Jessica Stringer |
| | |
| --- | --- |
| Modern trio | 9yrs and under |
| 1st | Seren Perring, Scarlett Young & Grace Harris |
| 3rd | Hannah Keogh, , Marley Young & Lottie Whittaker |
| | |
| --- | --- |
| Song and dance trio | 9yrs and under |
| 1st | Seren Perring, Scarlett Young & Grace Harris |
| 3rd | Hannah Keogh, Marley Young & Lottie Whittaker |
| | |
| --- | --- |
| Classical trio | 13yrs and under |
| 2nd | Daisy Smedley, Zoe Hartley & Tilly-May Padley |
| 3rd | Alisha Ayres, Tenisha Lawrance & Emmie Wallman |
| | |
| --- | --- |
| Tap trio | 13yrs and under |
| 2nd | Louis Williamson, Talliah Lawrance & Bethany Pitts |
Modern trio

13yrs and under

2nd

Bethany Pitts, Talliah Lawrance & Dior Bedford
Naomi Gates, Elishka Liskutin & Madre Paice

3rd

Daisy Smedley, Emmie Wallman & Alisha Ayres
| | |
| --- | --- |
| Song and dance trio | 13yrs and under |
| 1st | Demi Scott, Tenisha Lawrance & Zoe Hartley |
| | |
| --- | --- |
| Classical trio | 15yrs and under |
| 1st | Charlotte Rook, Anya Rook, Marissa Hancock & Zoe Elliott |
| | |
| --- | --- |
| Tap trio | 15yrs and over |
| 1st | Natasha Hartley, Tara Holland & Chloe Sudbury |
| | |
| --- | --- |
| Modern trio | 15yrs and under |
| 1st | Charlotte Rook, Zoe Elliott & Marissa Hancock |
| 2nd | Hannah Hick, Eleanor Smith & Stephanie Lipsham |
Adult groups

1st

Timestep Academy of Dance Tap

3rd

Timestep Academy of Dance modern
Timestep Academy of dance Ballet